Aventuras de Lexi la Jirafa Y Sus Amigos
Lexi va a la Escuela
by Theodore Valentine
---
Breaking Through
Theodore H. Valentine
$13.95
$11.95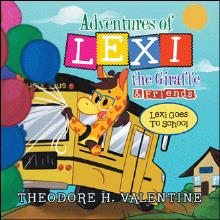 Adventures of Lexi the Giraffe & Friends.
Theodore H. Valentine
$16.99
---
Publication Date
:
11/22/2021
---
About the Book
Las Aventuras de Lexi la Jirafa Y Sus Amigos, es una serie de libros escritos para entretener y dar a los niños una introducción temprana al alfabeto, los números y las experiencias a través de la estimulante vida diaria de Lexi y sus amigos. Tanto los niños como los padres descubrirán momentos de enseñanza, animales, lugares e ideas que crearán horas de diversión.
---