Breaking Through
A Common Sense Guide To Losing Weight And Keeping It Off
by Theodore H. Valentine
---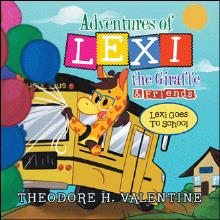 Adventures of Lexi the Giraffe & Friends.
Theodore H. Valentine
$16.99
Aventuras de Lexi la Jirafa Y Sus Amigos
Theodore Valentine
$16.99
---
Publication Date
:
3/18/2008
---
About the Book
Valentine Offers Weight Battlers a Little "Common Sense" New Guide Teaches Readers How to Lose Weight and Keep It Off for Good If you are ready to end the up and down weight yo-yo, author Theodore H. Valentine has the answer. Valentine writes in his sensible yet compelling new book, Breaking Through. "There are thousands of people at this very moment feeling the same as you. Breaking Through helps individuals get started now, right where you are, assist you in fitting your plan around your schedule and used to maximize results. Valentine offers readers a "toolbox" of mental tools to assist you in changing the way you think about weight loss and how it affects your life. Valentine explains, "Common Sense" is the key to losing weight and keeping the weight off. You will discover different approaches to the obstacles and barriers you have faced in the past. "Breaking Through was written to be a life-changing experience and move you towards the first steps to becoming the new healthier you," says Valentine. "I have come to realize that the life experiences we create and the positive impact we make on the lives of the people around us, defines who we are." Valentine writes. "I know that the challenge with weight can be painful and discouraging, but with an adjustment in the way you think, your goals can most certainly be achieved".
---
About the Author
Growing up in Southern California, Theodore Valentine is an avid road cyclist, skilled in the martial arts, a musician and entrepreneur. Along with Steve Brown, former strength trainer and owner of Astro Gym, assisted in training, coaching and designing posing routines for his wife Sandie Valentine, who successfully attained the titles of Miss Western America, Miss Michelangelo and Miss California (Short Class) body building competitions in the 80's.
Theodore Valentine is dedicated to his life passion of helping people achieve their very best, and now lives in Northern California with his beautiful wife Sandie and three daughters, Krystal, Alexia and Malina.