Body and Blood
by Mark D. Gallant
---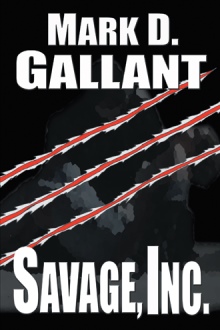 Savage, Inc.
Mark D. Gallant
$14.99
$11.00
Station 12
Mark Gallant
$15.99
$11.00
Christmas at Wildwood Farm
Mark D. Gallant
$11.99
$8.99
---
Publication Date
:
10/16/2014
---
About the Book
Agents from Station 12 have returned to Coral City in the wake of the Massacre with the hope of tying up loose ends. However, things have gotten more complicated since their last visit.
Rogue agent Darius Rizzatto remains a fugitive as he seeks a reckoning with the vampires that murdered his wife. His thirst for revenge has put him on a collision course with the deadly Trinity, and not even Brady and Jake may be able to save him.
It's the ultimate showdown of good versus evil.
---
About the Author
Mark D. Gallant was born and raised in the Bay State. Highly influenced by '80s pop culture, he found an interest in storytelling, primarily through visual media. He drew comics and made movies throughout his teenage years, and ultimately decided to go to film school. He spent ten years as an independent filmmaker before turning his attention to writing. He spends his days wearing many hats—a cog in the corporate machine, writer, and most importantly, husband and father.