Strategic Management
by Wilson I .B.Essien,Ph.D.
---
Managerial Hand Book
Wilson I. B. Essien, Ph.D.
£14.49
£9.20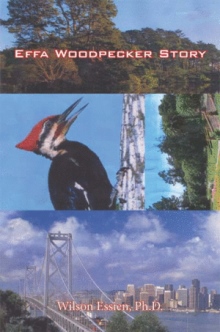 Effa Woodpecker Story
Wilson Essien, Ph.D.
£22.99
£17.80
Business Policy and Participative Decision-Making
Wilson Essien
£22.95
---
Publication Date
:
19/05/2012
---
About the Book
Over the years I watched many work of arts take place and saw how those concerned took care of their problems. There I realized that management is truly an artistic work. A case in point: In the city of Calabar in the Cross River State of Nigeria, there was a tailoring company that employed only men, but the irony is that they made women's dresses. There were other women's tailoring companies managed by women, but for some reason, most women preferred buying from the only tailoring company managed by men in the city of Calabar.
During the company's general meeting, an employee stood up and asked the company to employ a few women in the interest of progress. Many employees objected to the request that women be asked to come forward and fill out forms and be subjected to the same rigorous interview as any qualified candidate who wants to be employed; they suggested that the company may be moving toward the production of substandard dresses. The author of the idea refused to take no for an answer, because the management always turned down women candidates. A few months later, the president and the chief executive officer (CEO) joined the crusade of employing women.
Months after the president and CEO joined in, two women were employed, and they brought in their own fresh perspectives, including dresses for big women (whom they never called fat women). About ten years later, there were more than seven branches of the company, most of which were managed by women. I think life itself is a container of arts and strategies.
This book is made up of cases, artistic expressions, and strategic maneuverings to enable my readers to understand the core concepts of effective management.
---
About the Author
Wilson Essien is the CEO of Sunrise Vending Company in San Francisco, California. He received his BS degree in business management in 1986 from John F. Kennedy University in Orinda, California. In 1994, Mr. Essien received his MBA from National University in San Diego, California, and then in 2001, he received his PhD in organizational development (integral studies) from the California Institute of Integral Studies, San Francisco, California.
Dr. Essien's research and publications focus on innovations in dialogue, the bottom line, and the aftermath bottom line, motivation, business and ethics, business and culture, and team-based organizations, including imaginative and creative thinking and writing.
Dr. Essien has served as adjunct professor at the University of Phoenix, as a broker for Metro Loans Company, as president of Wilson Maintenance Company, and as a district court registrar.
Dr. Essien is the author of Managerial Handbook (2006) and The Effa Woodpecker Story (2009). He has also earned a Profile of Academic Excellence from his alma mater.