Passion, Longing and God
by Robert W. Bailor
---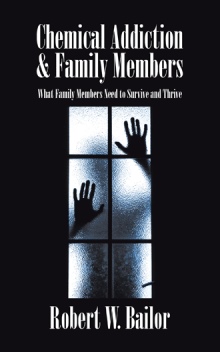 Chemical Addiction & Family Members
Robert W. Bailor
£9.95
A Month of Wonders
Robert W. Bailor
£12.49
£8.10
---
Publication Date
:
01/02/2000
---
About the Book
Does God exist? This question haunts us all, and the answer is crucial to whether we can find meaning and fulfillment in our lives. Resolving this issue should be a priority. But often it is not, because its thoughtful consideration is left to 'experts' or settled by using stock pieties and slogans or is dismissed as irrelevant or inconsequential in today's pragmatic, technology-dominated culture. Deny it, defy it or decry it, but the question of God's existence confronts every one of us as an issue crucial to discerning our own identity and value. We need a tool for considering the question of the existence of God in the manner we experience it: as a longing in the passion of our existence. Passion, Longing, and God is that tool.
The book begins by discussing the question of God's existence through conversational essay, poetry and parable. What is the importance of this question? How does it arise in us? How should it be asked? What kind of answer does it require? What is faith? How should faith be the answer? Does faith give us proof? How can we come to an answer for ourselves?
This discussion leads to two stories revealing arguments for and against the existence of God. 'The Trial' portrays a dramatic courtroom contest between a cunning and expert lawyer who opposes the existence of God and an untried yet brilliant opponent who holds to God's reality. They battle in no uncertain terms over whether faith in God is even reasonable. 'The Book' then tells the story of how a single mother comes to faith through a mysterious book found while spending a day at the seashore with her daughter. The book-within-a-book framework presents classical and fresh insights into the existence of God set in the context of one person's struggle to come to terms with her dysfunctional life circumstances and to find hope for her future.
Passion, Longing, and God challenges the reader to make a choice for or against being a person of faith, regardless of whether the reader already accepts God's existence or not. This book serves as an engaging, personal experience that encourages the reader to consider his or her current stance in light of substantial and relevant arguments and insights. It puts the reader face-to-face with the question of God's existence and with the reader's own longing for a truthful and satisfying answer.
---
About the Author
Bob Bailor received an undergraduate degree in Philosophy from Holy Cross College and a graduate degree in Philosophy from Loyola University of Chicago. He taught Religion and Ethics in high school from 1974 to 1975 and has specialized in teaching introductory Philosophy courses at Loyola of Chicago, Purdue University, Columbus State Community College and Ohio Dominican College since then. A presenter at the 11th International Workshop and Conference on Teaching Philosophy of the American Association of Philosophy Teachers, he published this paper in the journal, Teaching Philosophy, as 'Teaching Philosophy as a Life Skill.' In addition to writing books and articles, he has written and directed a play and has given talks on various philosophical topics. He lives in Westerville, Ohio with his wife, Mary Rose, and has three children.