The Manual of Medicine and Horsemanship
Transforming the Doctor-Patient Relationship with Equine-Assisted Learning
by
---
---
Publication Date
:
12/6/2007
---
About the Book
NEW for 2019! Version 4 of the companion materials to the Manual of Medicine and Horsemanship, previously distributed on CD, is now available on a FLASH DRIVE. See details below.
***PLEASE NOTE: AuthorHouse does not handle distribution of the flash drive. Please use the order form on Page 83 of the Manual or e-mail me confirmation of purchase at sensei@horsensei.com. The the order form says "CD," however, you will receive the new flash drive.***
What has become of the doctor-patient relationship in the era of managed care and Internet prescribing? How does the electronic health record affect clinician-patient communication? Medicine and Horsemanship is a Stanford University-based student elective and Continuing Medical Education course that employs horses to teach non-verbal communication and other interpersonal skills for the clinician-patient relationship and all professional interactions.
Now with the Manual of Medicine and Horsemanship-Transforming the Doctor-Patient Relationship with Equine-Assisted Learning, anyone with an EAL, EAP, EGE, or EFEL practice can conduct Medicine and Horsemanship.
You will learn the practical and philosophical principles of teaching good bedside manner. You will get detailed, step-by-step exercises needed to conduct equine-assisted learning programs for medical students and healthcare professionals.
New for 2019: Included in the purchase price is a flash drive with Version 4 of lesson plans, handouts, promotional photos and videos, administrative forms, and a PowerPoint presentation suitable for Grand Rounds. The flash drive is shipped to you when you fill in the order form on page 83 of the Manual or e-mail me with confirmation of purchase at sensei@horsensei.com. Purchase also includes a 1/2-hour consultation with the author to assist you in establishing Medicine and Horsemanship at a medical center near you. Call for appointment.
---
About the Author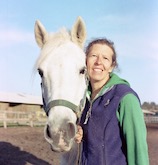 Beverley Kane, MD, is a licensed California physician with 30 years' experience in psychological counseling, group dynamics, and doctor-patient communication. Originally Board Certified in Family Medicine, Dr. Kane went from clinical practice to medical informatics, where she pioneered work in doctor-patient communication over electronic mail and between the physician's electronic medical record and the patient's personal health record. She is currently Adjunct Clinical Faculty at Stanford School of Medicine in Palo Alto, CA and Program Director of Medicine and Horsemanship. Her private practice, Horsensei Equine-Assisted Learning and THerapy (HEALTH), conducts communication workshops for healthcare, corporate, and community groups. Dr. Kane is an avid horsewoman and endurance riding enthusiast.
Please visit us at Horsensei Equine-Assisted Learning and Therapy